(ICCI) Islamabad Chamber of Commerce & Industry
Membership procedure of Islamabad Chamber of Commerce & Industry (ICCI)
Pakistan has several chambers of commerce including Karachi, Lahore, Sialkot, and Islamabad. To be a member of any Chamber of Commerce enables one to interact with government officials, intermediaries, and ambassadors leading businesses on a national and international scale. In order to share their concerns on various business-related issues, chamber members keep in touch with government officials. All necessary commercial documents must be endorsed with a member's Certificates of Origin, PSW registrations, and certificates of origin. As well as explaining government regulations and procedures, the department provides in-depth advice on trade and investment. Additionally, the Standing Committees are also responsible for monitoring and pursuing issues relating to Trade and Industry, Foreign Investment Regulations, Tourism, Taxation, Infrastructure, etc.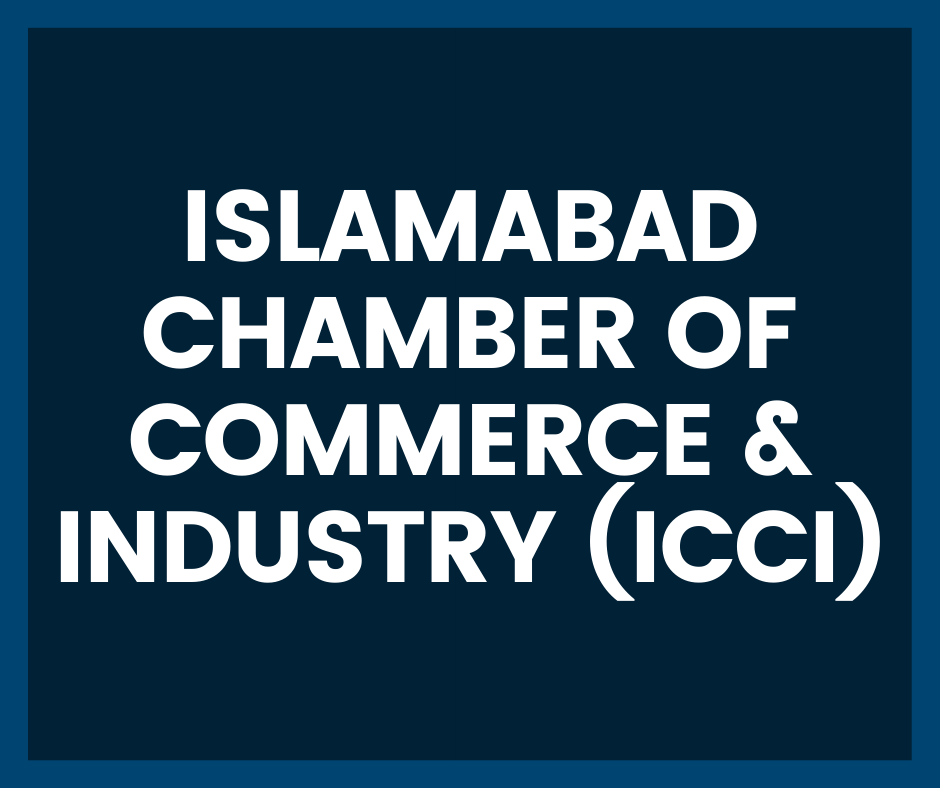 Membership classes of ICCI:
Taxocrate Pvt Ltd can help you become a member of the Islamabad Chamber of Commerce and Industry (ICCI). Being the capital of Pakistan and the economic center of the nation, the Chamber of Commerce & Industry, Islamabad represents the mainstream of economic activities in Pakistan. There are two classes of membership in every chamber of commerce in Pakistan. These classes are: 
1. Corporate Class / Member:
Multinational corporations or organizations with their headquarters or branches in Pakistan are considered corporate class organizations. Chamber of Commerce and Industry of Pakistan members include these companies and organizations. Also, their turnover must be at least Rs.50 million. There should be a minimum annual turnover of Rs.50 million.
2. Associate Class / Member:
In the context of the Associate class, a management organization must have an annual turnover of less than Rs. 50 million, and not be a body within the corporate or multinational sector.
Eligibility criteria for Membership of ICCI:
The procedure of membership for the Islamabad Chamber of Commerce and Industry is quite simple and easy. Step by step procedure is explained below:
For the grant of membership, a prospective member must declare their business concern whether it is a Sole Proprietorship, Partnership Firm, Association of Persons (AoP), or a Company holding valid NTN (National Tax Number) and Sales Tax Registration.

The prospective member must either be a permanent citizen of the Capital or should have substantial business interests in industrial and corporate business.

Territorial jurisdictions of the Chamber will make an assessment about Income Tax and Sales Tax of a member.

The application will be proposed and the existing members will review the application

The member should not have any criminal record
Documents Required for ICCI Membership:
Copies of CNIC of all directors. In the case of foreign nationals, passport copies will be required.

Company's National Tax Number

Company's latest Income Tax Returns copies (where applicable)

A copy of Sales Tax Registration & Latest Sales Tax Returns (where applicable)

3x photographs of representative

Appointment letter of premises / lease deed

Original bank certificate on the business name

Copies of Memorandum and Article of Associations

       

 Copy of the certificate of incorporation or filing proofs of

forms 38, 39, 40, 41, 42, 43, 45 with BOI letter

approved by SECP.

  

ICCI must be notified of all correspondence by an authorized representative by giving power of attorney to one director or general manager the

·

        
 In case the directors are changed, submission of the latest copies of change of Form 29 or Form 38 to 45 certified by SECP
The articles of association and memorandum of an organization may state that members may be canceled or disqualified if they violate the Trade Ordinance.
A member's membership can be renewed annually by paying the prescribed subscription within the time specified in the Memorandum and Articles of Association. The date is the 31st of March every year. A copy of your income and sales tax filing is required to renew your membership for the upcoming year.
How TAXOCRATE can help you in getting the membership of ICCI?
 Taxocrate (Pvt) Limited can help you in getting the membership of Chamber of Commerce Islamabad. We have more than 30 years of experience in corporate-related matters such as Company Registration, Firm Registration, Proprietorship Registration, Trademark Registration, Income and Sales Tax Returns, and NTN Registration. For further queries regarding the above-mentioned matters, please leave a message in the comment box given below. You can call us for consultation and guidance by dialing 0331-6644789. You can send us an email with your questions at info@taxocrate.com.  We take pride in the trust of our much-valued clients.
Disclaimer: All information is provided on this portal solely for informational purposes. This portal is not affiliated with the Government website. Please note that this disclaimer also applies to our website, and we may refer to it as 'us', 'we', 'our' or 'website'. The information on the website has been gathered from various government and non-government sources. We disclaim any liability for errors, injuries, losses, or damages arising from the use of this information. We also disclaim any liability for the availability and authenticity of this information. Our services consist of filling out forms, providing legal advice, and assisting our clients. The departmental processing of the registration forms is not our responsibility. You will have to use a service fee for professionally preparing your application, submitting it to the relevant authorities, and coordinating your application process. You will have to pay any Government fees.