5 Simple steps of Company Registration in Pakistan
in just 2 Days!
5 Simple steps of Company Registration in Pakistan
Investing in Pakistan is a great idea for many reasons. A huge population, low competition, and a rapidly growing economy are some of its biggest advantages. An overview of the different legal entities available to foreign investors is presented in this article. The registration of a company in Pakistan will also be outlined step-by-step. Do you want to find out how to register a company in Pakistan? The following guide can help you. We would love to hear if you found the guide useful by leaving a comment.
Securities and Exchange Commission of Pakistan (SECP)
In Pakistan, the Securities and Exchange Commission of Pakistan (SECP) handles all company registration processes. For registering a company in Pakistan, SECP offers both electronic and offline services. A company name can be checked for availability. Pakistani companies come in different types.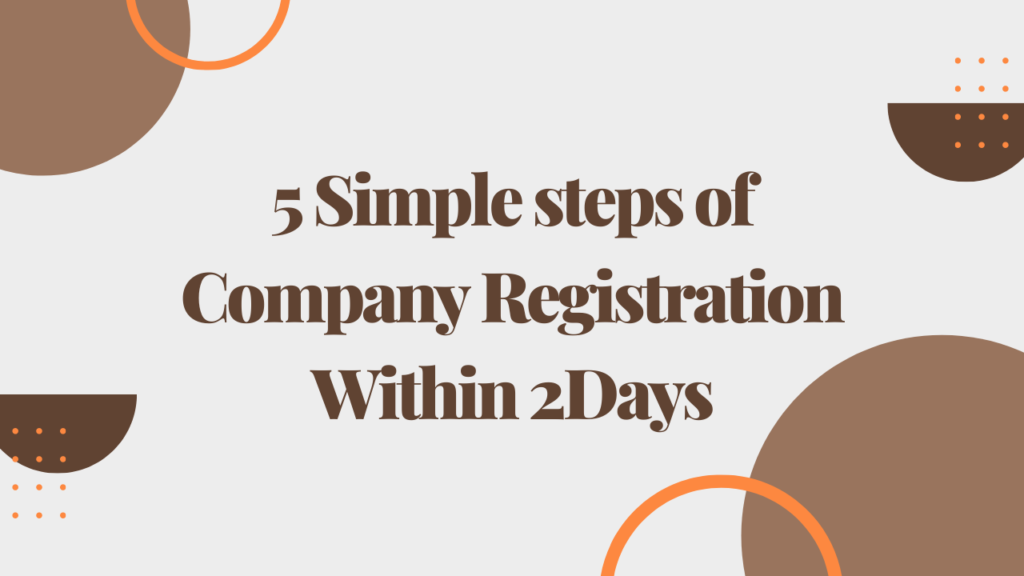 The Incorporation Process
In Pakistan, forming a company involves five basic steps. Below we explain each step with its specific requirements.
Step 1: Company Registration
The first step is to check SECP's Company Name Search to determine whether the name you propose is available.

You can access eServices by logging in. 

Fill in the details and begin the process. A payment of Rs. 200 must be made either online through your credit card or offline in the chosen bank to complete this process.

You can find more information on this Company Name Reservation Guide by SECP
Choose the company type very carefully:
A private limited company must have at least two directors.

One director and one secretary are required for a single-member company.

If your name reservation is successful, an email will be sent to your registered email address within two to three days. The first step may need to be repeated if there is an objection.

A 90-day reservation will be made for your company name. Company Name Reservation Certificates can either be picked up at the Company Registration Office (CRO) on the following working day or delivered to your address within 2 to 4 days.
Step 2: Documents Of Incorporation
During the incorporation process, the following documents must be filed. As soon as you send in your name availability application, begin drafting your Memorandum and Articles of Association.
Memorandum of association 
The Memorandum of Association outlines basic conditions for the operation of the company. Typically, it is the document that governs the company's relationship with the outside world. Documents drafted with care are among the most important. This link includes sample memorandums according to the nature of the business. It may be necessary to hire a lawyer to draft those for your business if you don't find a sample for it. 
Articles of Association
In conjunction with the Memorandum of Association, the Articles of Association form the company's constitution, defining the duties of the directors, the types of business to be conducted, and how the shareholders exercise control over the board. The single-page Articles of Association can be found at this link.
Form 1, Form 21 & Form 29
Form 1: Compliance declaration with the Companies Ordinance, 1984
Form 21: Notice of the location of the company's registered office
Form 29: Director and officer information, including the Chief Executive Officer, Secretary, etc.
Documents required for Company Registration in Pakistan:
You will need the following documents to proceed with the Company Registration in Pakistan.
Memorandum of Association

Articles of Association

Scanned version of CNICs of the Directors

Scanned Receipt of Bank Deposit (In case of Offline Payment)

Form 1, Form 21 & Form 29 is automatically generated from the details you enter in the Form of Incorporation.
Step 3: Digital Signatures
Through eServices, the witness to your documents will be NIFT, and each director will be required to obtain a digital certificate from NIFT to electronically sign all documents, including memorandums, articles, and other forms.
You will need to send the application to NIFT to obtain digital certificates after receiving the Name Reservation Certificate from SECP.
You can obtain and install digital certificates by following these instructions. If you encounter any problems, please contact Taxocrate. Their customer service is excellent.
Step 4: Fee Of Incorporation/Filing
By using the online incorporation fee calculator, you can calculate how much your incorporation fee is based on your share capital. For more information, refer to the Schedule of Fees.
Offline Payment: The deposit receipt must be uploaded before the payment can be submitted.
Online Payment: Once you have completed the previous steps, submit the form, and the online payment will appear in eServices in the online payment section.
Step 5: Certificate Of Incorporation
An email may be sent if an objection is raised. Corrections should be made and the form should be submitted again through the eServices Portal. 
If there are no objections, SECP will complete the process within seven working days and you will be notified via email regarding the successful incorporation of your company.
By showing a copy of the payment receipt, you can pick up the Incorporation Certificate at the concerned Company Registration Office (CRO) or it will be delivered to your registered address after seven working days.
Minimum Capital Requirement in Pakistan
Paid-up capital and authorized capital are two types of share capital in Pakistan. You must declare both capitals in the articles of association when you register your company.
A company's paid-up capital is the amount received from its shareholders. A company's authorized capital, on the other hand, is the maximum amount of shares that it can issue to its shareholders.
In Pakistan, private limited companies are not subject to a minimum capital requirement.  Thus, the minimum capital is usually considered to be PKR 100,000.
In reality, though, the paid-up capital you inject must match your planned expenses. You must have sufficient capital for your business, for example, if you want to construct a factory.
Alternatives to company registration in Pakistan
Branch Office
If your company wants to establish a presence in Pakistan without opening a separate legal entity, a branch office is an ideal solution.
It is possible to establish branches in Pakistan to execute a contract. Branches, however, cannot engage in any form of trading or commercial activity. Accordingly, your activities will depend on the contract you signed. You are restricted by the contract.
100% of the parent company's branch office in the country of origin is owned by the parent company. It also does not require a minimum capital requirement since it is not a limited liability company.
It takes up to seven weeks for the registration process to be completed. Permits are valid for one to five years if they are approved by the Board of Investment (BOI).
Liaison Office
Set up a foreign-owned liaison office in Pakistan if you want to promote your products in the country.
Apart from product promotion and technical assistance, you can also explore opportunities for joint collaboration and export promotion in Pakistan.
A type like this is not permitted to engage in commercial or trading activities, nor is it subject to any minimum capital requirement.
According to the contract or assignment, a liaison office can only function.
It is stated in the contract that you may only provide technical assistance and promote your products, but you may not engage in export promotion or any other activities.
Therefore, it is the same as the branch office. As a result, there will be no shareholding because it will remain in the country of origin.
It usually takes seven (7) weeks to establish a liaison office in Pakistan. So, once granted, your permit will be valid for 1 to 5 years. It must also be approved by the Board of Investment (BOI).
FREQUENTLY ASKED QUESTIONS
Q: How much does it cost to register a company in Pakistan?
Taxocrate (Pvt) Ltd. offers its company registration service at a very reasonable price. The company Registration fee at our end is PKR. 20,000. Anyhow, the registration fee and the consultation fee are negotiable. Please contact 0331-6644789 for free corporate advice and to begin with the procedure.
Q: How can I register my company in Pakistan?
The Company Registration process in Pakistan is very simple and easy. Please read the detailed guide given above.
Q: How many types of company register in Pakistan?
Businesses fall into one of four categories, each with its own set of rules and legal structure.There are three types of limited companies in Pakistan: sole proprietorships, unregistered partnerships, and limited liability partnerships (LLPs). Entrepreneurs should carefully choose the type of business structure that will suit their business type before starting their business.
Q: How can I check if a company name is registered in Pakistan?
Searching for the availability of a business name for a private limited company. Search for a company name by using SECP. An unregistered company name will show "no results found". The name can still be registered.
Q: How much money do I need to register a company?
Well, that depends on the nature of the company you want to register in Pakistan. Charges for the registering of companies range from PKR 15,000 to PKR 200,000 from Private Limited Company Registration to NPO Registration.
Q: What documents are needed to register a company?
You will need the following documents to proceed with the Company Registration in Pakistan.Memorandum of Association Articles of Association Scanned version of CNICs of the Directors Scanned Receipt of Bank Deposit (In case of Offline Payment) Form 1, Form 21 & Form 29 is automatically generated from the details you enter in the Form of Incorporation.
Q: What is SECP registration?
The SECP's E-Services project is an electronic data gathering and retrieval system that performs automatic collection, acceptance, and forwarding of submissions from companies required by law to file documents and forms with the SECP.
Q: How to register a Private Limited Company
Private limited companies are privately owned businesses. A limited partnership, in this case, has a liability arrangement where each shareholder is only liable for the number of shares held by them.The startup ecosystem in the country is booming, and more individuals are looking to start their own businesses. It's important to be conversant with the different business registration types, like a sole proprietorship, limited liability company, or private limited company.The advantages of private companies over public ones include investing in long-term strategies, keeping their shares' values and financial figures discreet, and being free and flexible with their operations.
Q: What is difference between SMC and private limited?
SMC Pvt Ltd
Single-member companies are called SMCs. In this type, the company is private limited but consists of only a single member. Its name will be written as, for example, Legal Solutions SMC Pvt Ltd. Your company has a different NTN number than you do.
Private Limited
Most organizations' structures are best suited to private limited companies. With this type, you can legally specify all the rules and regulations between partners. As an example, if there are 3 partners, then the investment rules for the partners might be 30-30-40 and the profit guidelines might be 50-40-10.
Q: What is the purpose of SECP?
In keeping with the SECP's regulatory objectives, the SECP maintains fair, orderly, and efficient markets, promotes a robust corporate and insurance sector, protects investors' rights, facilitates capital formation, and establishes an efficient and dynamic regulatory framework.
Q: What is NTN?
With E-Enrollment with FBR, you will receive a National Tax Number (NTN) or Registration Number and password. An individual's 13-digit Computerized National Identity Card (CNIC) will be used as their NTN.
Q: How do I get an SECP certificate?
SECP should receive the process. An email will also be sent to you. An email will be sent once SECP receives your process. The submitted processes will provide you with a bank challan to print and pay the fees.
Disclaimer: All information is provided on this portal solely for informational purposes. This portal is not affiliated with the Government website. Please note that this disclaimer also applies to our website, and we may refer to it as 'us', 'we', 'our' or 'website'. The information on the website has been gathered from various government and non-government sources. We disclaim any liability for errors, injuries, losses, or damages arising from the use of this information. We also disclaim any liability for the availability and authenticity of this information. Our services consist of filling out forms, providing legal advice, and assisting our clients. The departmental processing of the registration forms is not our responsibility. You will have to use a service fee for professionally preparing your application, submitting it to the relevant authorities, and coordinating your application process. You will have to pay any Government fees.