INCOME TAX LAWYERS IN KARACHI
Calculate Income Tax According to Income Tax Ordinance 2001 and File Income Tax Returns with Expert Income Tax Lawyers and Consultants in Karachi, Islamabad, and Rawalpindi
Calculation of Income Tax As Per Income Tax Ordinance 2001 and Filing Income Tax Returns
Calculation of Income Tax As Per Income Tax Ordinance 2001 and Filing Income Tax Returns is not an easy task. Managing your income tax obligations and filing accurate income tax returns is a crucial aspect of financial responsibility. However, calculating income tax under the Income Tax Ordinance 2001 and filing income tax returns can take time and effort. It requires a deep understanding of tax laws, meticulous calculations, and adherence to legal requirements. Here, we will explore why calculating income tax and filing income tax returns is challenging and the importance of seeking professional assistance to navigate this process effectively.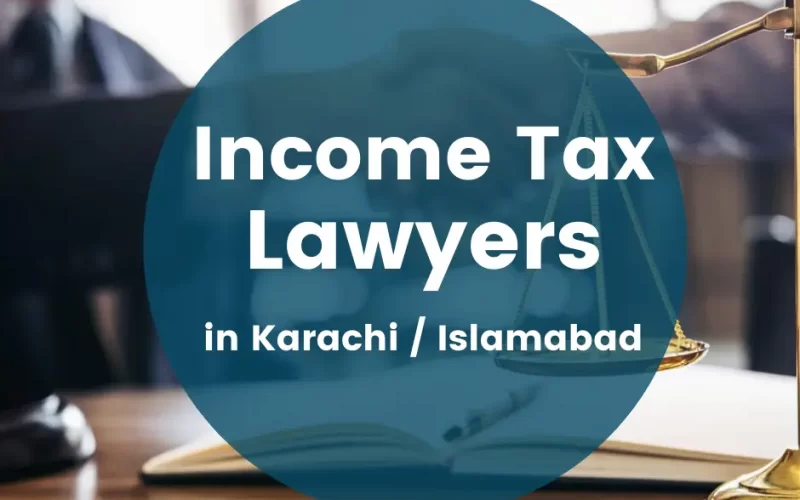 Understanding the Income Tax Ordinance 2001
The Income Tax Ordinance 2001 is a comprehensive piece of legislation governing Pakistan's income tax regulations. It lays down the guidelines, procedures, and rates for calculating and paying income tax. However, comprehending the intricate provisions of the ordinance and correctly applying them to your specific financial situation can be daunting. The ordinance considers various factors, including income sources, deductions, exemptions, tax slabs, and applicable rates, making it essential to have a solid grasp of these concepts to ensure accurate tax calculations.
Challenges in Calculating Income Tax
Several challenges arise when calculating income tax per the Income Tax Ordinance 2001. These challenges include:
Complex Tax Structures: 
The Income Tax Ordinance 2001 encompasses a complex tax structure with different tax rates and slabs applicable to various income levels. Understanding these structures and determining the applicable tax rates based on income can be intricate, especially for individuals with diverse sources of revenue.
Deductions and Exemptions:
The ordinance provides various deductions and exemptions taxpayers may be eligible for. However, identifying and accurately calculating these deductions can be challenging, as they involve specific criteria and documentation. Failure to claim eligible deductions can result in higher tax liabilities.
Legal Compliance of Income Tax Ordinance: 
Compliance with the legal requirements of the Income Tax Ordinance 2001 is crucial to avoid penalties or legal issues. It involves the timely filing income tax returns, maintaining proper records, and adhering to procedural guidelines. Failure to comply with these requirements can lead to fines, interest charges, or legal proceedings.
Ever-Changing Tax Laws: 

Tax laws are subject to amendments and updates. Staying abreast of these changes can be overwhelming, especially for individuals who need to be better versed in tax regulations. Failing to account for the latest changes can result in incorrect tax calculations and potential non-compliance.
NATIONAL TAX NUMBER – NTN REGISTRATION IN PAKISTAN
The National Tax Number – NTN is required to conduct any taxable activity in Pakistan. It may be any financial business deal or salary transaction. The NTN number can be obtained from the Federal Board of Revenue (FBR). After obtaining the National Tax Number, you can easily become the tax return filer and pay the due tax. This will prevent you from the burden of extra taxes at the time of any financial transaction.
Taxocrate is composed of expert income tax lawyers in the Karachi office, who have proper knowledge of the procedure of NTN registration in Pakistan. Therefore, they can confidently take this responsibility and do all the work for NTN registration for you so that you can peacefully focus on your core business activities.
According to the Income Tax Ordinance 2001, the Income Tax is levied on the taxable income earned in a year at the specific rate specified by the government. The taxpayer is required to file the annual tax return and pay the due taxes to avoid any extra burdens of taxes and penalties.
As stated above, the payment of Income Tax on taxable income is mandatory for the taxpayer. For the return filing and payment of income tax, you must require National Tax Number – NTN.
The government has recently announced new tax reforms in order to regulate the taxation structure in Pakistan. According to the new regulations, Income Tax returns filing and Income Tax payments have become more crucial. The tax reforms have simplified the taxation system in Pakistan for individuals and business owners. The initiative is taken to encourage more people to file their income tax returns and come under the tax net.
Our professional income tax consultants in the Karachi head office and income tax lawyers in Islamabad regional office will make NTN registration for you, prepare your wealth statement, file your annual income tax returns and provide proper guidance for the payment of your due taxes and tax deductions.
In addition to this, our highly skilled income tax advisors will be responsible to represent you before the tax authorities like the Federal Board of Revenue – FBR. Moreover, our income tax advisors in Karachi and as well as in Islamabad city will provide assistance in the FBR Tax Audit in order to prepare you for the audit and avoid any mistakes.
In addition to the Income Tax, there is another form of tax which is applicable to the sales of selective goods and services and the imported goods. It is called the Sales Tax. This tax is imposed by the government as per the regulations stated in the Sales Tax Act 1990.
The Sales tax is applicable to all types of goods except the goods on which tax exemption is given. The exempted goods that are mentioned in the Sixth Schedule of The Sales Tax Act 1990 include medicines, poultry feed, unrefined agricultural products, computer software, etc. Further information about the exempted goods can be obtained from the website www.fbr.gov.pk.
Other than goods, the sales tax is also levied on the sales of services which may include services provided by the restaurants and hotels, ads run on television and radio except for public service messages by certain authorities and services provided by customs agencies, shipping/courier and, the logistic companies.
The tax collected from the sales of goods and services by the business owners will be given to the government. By state law, it is the duty of all business owners to pay the sales tax to the Government of Pakistan in order to avoid any fines/penalties.
Disclaimer: All information is provided on this portal solely for informational purposes. This portal is not affiliated with the Government website. Please note that this disclaimer also applies to our website, and we may refer to it as 'us', 'we', 'our' or 'website'. The information on the website has been gathered from various government and non-government sources. We disclaim any liability for errors, injuries, losses, or damages arising from the use of this information. We also disclaim any liability for the availability and authenticity of this information. Our services consist of filling out forms, providing legal advice, and assisting our clients. The departmental processing of the registration forms is not our responsibility. You will have to use a service fee for professionally preparing your application, submitting it to the relevant authorities, and coordinating your application process. You will have to pay any Government fees.
How Taxocrate Can Assist You with Tax Guidance and Filing in Karachi, Islamabad, Rawalpindi, Lahore, and Rahim Yar Khan
In the current taxation landscape of Pakistan, it is crucial to understand the tax payment process and the filing of income tax returns. Proper guidance and knowledge about the tax system are essential before fulfilling your tax obligations. Taxocrate, a leading tax service provider, offers unparalleled tax services and consultancy in major cities like Karachi, Islamabad, Rawalpindi, Lahore, and Rahim Yar Khan. With a team of highly qualified income tax lawyers, consultants, and advisors, Taxocrate is dedicated to helping individuals and businesses navigate the intricacies of taxation in Pakistan.
Expert Tax Services and Consultancy
Income Tax Lawyers in Karachi and Islamabad:
Taxocrate boasts a team of experienced income tax lawyers who provide expert advice and assistance in matters related to income tax. Whether you need guidance on income tax planning, deductions, exemptions, or resolving tax disputes, our skilled lawyers in Karachi and Islamabad are well-equipped to handle various tax issues. Their extensive knowledge of income tax laws enables them to provide personalised solutions tailored to your specific needs.
Tax Return Filing Services:
Filing income tax returns accurately and timely is crucial to avoid penalties and legal issues. Taxocrate offers comprehensive tax return filing services to individuals and businesses in Karachi, Islamabad, Rawalpindi, Lahore, and Rahim Yar Khan. Our team of professionals stays up-to-date with the latest tax regulations, ensuring that your tax returns are prepared accurately and submitted on time.
Consultancy for Various Taxes:
In addition to income tax, Taxocrate provides consultancy services for various other taxes, including sales and property taxes. Our consultants possess extensive knowledge of tax laws and regulations and can assist you with tax registration, compliance, and reporting. By availing of our consultancy services, you can ensure that your tax obligations are met efficiently and by legal requirements.
Expert Guidance and Benefits
By engaging Taxocrate's expert tax lawyers, consultants, and advisors, you can save valuable time and effort that would otherwise be spent on understanding complex tax laws and regulations. Our professionals will guide you through the entire tax process, ensuring you fulfil your obligations accurately and efficiently.
Minimizing Tax Penalties:
Incorrect tax filing or non-compliance with tax regulations can lead to hefty penalties. With Taxocrate's guidance, you can avoid such penalties by preparing your tax returns accurately and by legal requirements. Our experienced professionals will review your financial information and identify potential deductions and exemptions, maximizing your tax savings while remaining compliant.
Personalized Tax Assistance:
At Taxocrate, we understand that each individual or business has unique tax requirements. Our income tax lawyers, consultants, and advisors offer personalized assistance, taking into account your specific circumstances and goals. We strive to provide tailored solutions that address your tax concerns effectively.
CONTACT US TODAY FOR FREE INCOME TAX CONSULTANCY
Taxocrate is your trusted partner for tax guidance and filing in Karachi, Islamabad, Rawalpindi, Lahore, and Rahim Yar Khan. With a team of highly qualified income tax lawyers, consultants, and advisors, we offer comprehensive tax services and consultancy to individuals and businesses. Whether you need assistance with income tax, sales tax, property tax, or any other tax-related matters, our professionals are here to provide expert advice and ensure compliance with tax laws. Contact Taxocrate today to benefit from our unmatched tax assistance and free consultancy services.
IMPORTNT LINKS ABOUT TAXATION & TAX LAWYERS
Leading You Through Tax Labyrinth: Meet Our Expert Tax Lawyers and Consultants

Tax Troubles Diminished: Thanks to Our Diligent Tax Lawyers and Consultants

Transforming Taxation Challenges into Opportunities with Our Tax Lawyers and Consultants

Your Taxation Partners: Skilled Tax Lawyers and Consultants at Your Service

Taxation Zen: Your Journey with Competent Tax Lawyers and Consultants

Taxation Brilliance Redefined: Engage with Our Accomplished Tax Lawyers and Consultants

Crafting Tax Success Stories: Your Guide – Expert Tax Lawyers and Consultants

Taxation Enlightenment: Unveil Financial Wisdom with Our Tax Lawyers and Consultants

Tax Puzzles Solved: Your Route with Skillful Tax Lawyers and Consultants

Igniting Financial Prosperity: Guided by Our Expert Tax Lawyers and Consultants

Beyond Tax Challenges: Partner with Resourceful Tax Lawyers and Consultants

Taxation Illuminated: Your Pathway with Expert Tax Lawyers and Consultants

Taxation Allies: Trustworthy Tax Lawyers and Consultants at Your Side

Financial Mastery through Taxation: Our Skillful Tax Lawyers and Consultants

Taxation Wizards: Your Key to Success – Tax Lawyers and Consultants

Navigating Taxation Success: Empowered by Our Expert Tax Lawyers and Consultants

Taxation Unveiled: Your Journey with Accomplished Tax Lawyers and Consultants

Building Financial Success with Our Diligent Tax Lawyers and Consultants

Taxation Excellence Personified: Meet Our Skilled Tax Lawyers and Consultants